Oakville Market Watch
Oakville Real Estate Market Trend (2016-2023)
South East Oakville market report
Oakville Weekly Market Activities(2020-2022)
Oakville Real Estate Market Stats - August 2021(OMDREB)
In Oakville, the average sale price for a home in August 2021 was $2,115,917, up 27.1 percent from $1,664,579 in 2020. The average sale price for a townhouse/condo was $1,006,535, up 18 percent from $852,917 in 2020.
Oakville Housing Market Outlook (2021)
Oakville could shift from seller's market in 2021, prices expected to rise 5%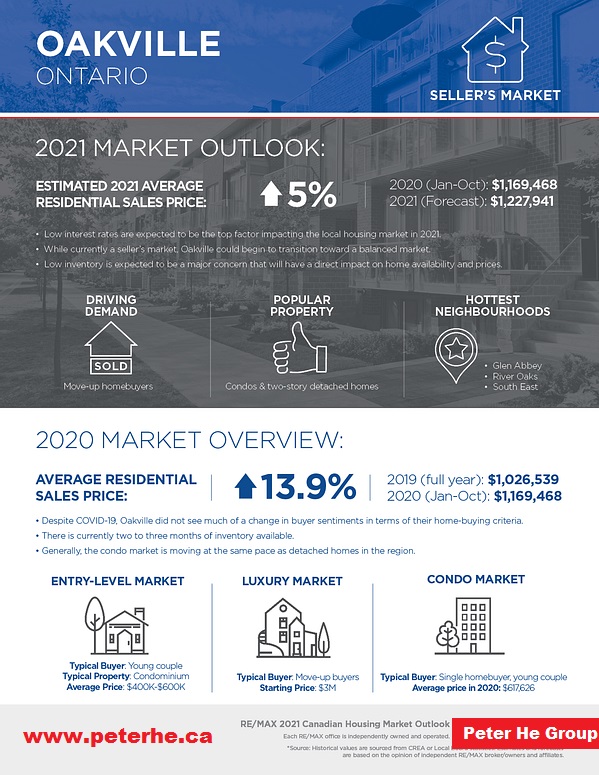 The Oakville housing market has seen average residential prices rise and inventory dwindle in 2020, which has been a common trend across many Ontario housing markets, resulting in rising prices. But Oakville homebuyers could be in for some relief, with the current seller's market potentially beginning to transition into more balanced territory in 2021.
The region saw average home prices rise to $1,169,468 in 2020 (Jan. 1-Oct. 31) compared to $1,026,539 in 2019 (Jan. 1-Dec. 31). Low inventory is expected to be a major concern that will continue to have a direct impact on home availability and prices next year. Furthermore, low interest rates expected to hold steady in 2021 are likely to keep buyer demand high. Thus, the RE/MAX outlook for the Oakville housing market is an increase of 5% in average price to approximately $1,227,941 across all property types.
 
Who's driving the Oakville housing market?
After a year of supply challenges, move-up buyers are expected to drive the market in 2021, pushing up prices. In 2020, home-buying hesitation was not particularly relevant despite economic challenges, with first-time homebuyers continuing to move ahead with purchases, predominantly condos in the $400,000 to $600,000 price range. Oakville's condominium market moved at the same sale and purchase pace as detached homes, and this is expected to continue in 2021. This is in contrast to the dip in condo activity experienced in neighbouring Mississauga, and even more pronounced in downtown Toronto.
Meanwhile, the luxury market was not significantly impacted by the pandemic, driven by move-up buyers and starting at $3 million. Activity is expected to continue at its current pace in 2021.
The hottest neighbourhoods in Oakville, based on 2020 sales, are Glen Abbey, River Oaks and South East Oakville. Properties in highest demand include condominiums, two-story detached homes, townhomes and luxury properties – a wide range of housing types that speaks to the high demand for housing in the area.
Oakville currently has two to three months of housing inventory available.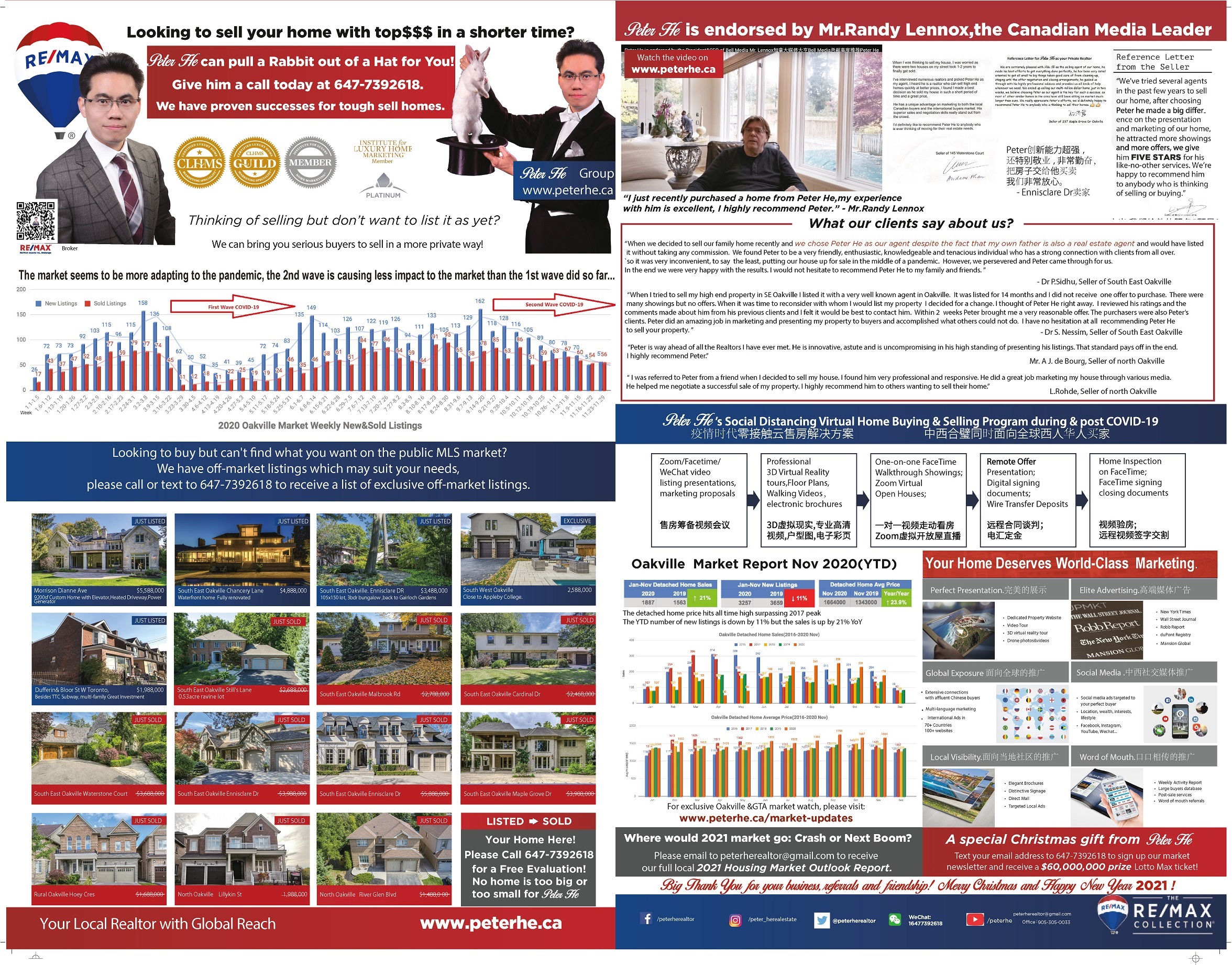 Oakville Housing Market Outlook 2020
RE/MAX is forecasting continuing balanced conditions for the Oakville housing market in 2020, which is expected to prevail in 2020 due to no economic changes. The average residential sale price is expected to rise by 5%. The anticipated price increase is being attributed to low inventory and a strong buyer pool in the region.
Currently there are three months of inventory in the Oakville housing market, but as we move into 2020 this should increase.
Move-up homebuyers will continue to drive demand for homes in 2020. There is no single "hot neighbourhood" in Oakville that is selling faster than others. This market consistency is expected to continue in 2020.
Oakville's luxury housing market continues to thrive, with home sales being propelled by move-up and out-of-area buyers. Growth of this property segment is expected to continue in 2020 due to the high liveability of the region and the continuing trend of migration from urban city centres such as Toronto, into suburban cities like Oakville.
From a national perspective, RE/MAX anticipates a leveling out of the highs and lows that characterized the Canadian housing market in 2019, particularly in Vancouver and Toronto, as we move into 2020. Healthy price increases are expected, with an estimated 3.7-per-cent increase in the average national residential sales price, according to the RE/MAX 2020 Housing Market Outlook Report.
Most individual markets surveyed across Canada experienced moderate price increases year-over-year from 2018 to 2019. However, some regions in Ontario continue to experience higher-than-normal gains, including London (+10.7 per cent), Windsor (+11 per cent), Ottawa (+11.7 per cent) and Niagara (+12.9 per cent).
"Southern Ontario is witnessing some incredibly strong price appreciation, with many regions seeing double-digit gains," says Christopher Alexander, Executive Vice President and Regional Director, RE/MAX of Ontario-Atlantic Canada. "Thanks to the region's resilient economy, staggering population growth and relentless development, the 2020 market looks very optimistic."

Track Oakville Market Weekly
https://docs.google.com/spreadsheets/d/e/2PACX-1vS6-yzECMLoVq_jflU2MLeR7WTdr1Ms82QxrADiBFJkpfESCMcJIN48OfDxH8qlWl3H44507FdVY7iA/pubhtml?gid=35567921&single=true