Real Estate News
RE/MAX releases Canadian housing market outlook for 2020 - ONTARIO


Toronto is set to experience a strong housing market in 2020. Lower unemployment rates, economic growth and improved overall affordability in the Greater Toronto Area are expected to drive the market forward. The estimated average sale price increase for 2020 is six per cent, two points higher than the growth experienced between 2018 ($736,256) and 2019 ($766,236). The city saw 76,413 properties sold in 2019, up 12 per cent from 2018 (68,064). While Toronto is experiencing its "busiest" construction season ever, housing supply still falls short of the demands of the city's rapidly growing population.

Cities such as Ottawa and Windsor are seller's markets, showing substantial increases in average residential sale price at 11.7 and 11 per cent, respectively. This strong growth is expected to continue into 2020, with Ottawa's new LRT system impacting surrounding development and Windsor's continued affordability attracting young professionals to the area. Buyers are also not burdened by the mortgage stress test, as they were in 2018.

The Niagara region is also showing strong growth, with average residential sale price increasing almost 13 per cent, from $378,517 in 2018 to $427,487.50 in 2019. Value-conscious consumers from the Greater Toronto Area are buying in droves, with many choosing to live in the region while commuting to Toronto.


"Southern Ontario is witnessing some incredibly strong price appreciation, with many regions still seeing double-digit gains," says Christopher Alexander, Executive Vice President and Regional Director, RE/MAX of Ontario-Atlantic Canada. "Thanks to the region's resilient economy, staggering population growth and relentless development, the 2020 market looks very optimistic." 

Read the outlook for the rest of Canada: 
https://blog.remax.ca/canadian-housing-market-outlook

Politics and Real Estate : Conservative & Liberal Parties' Housing Plan Comparison
Housing and real estate are one of the most hot topics for this upcoming federal election, the election results may be making a big difference on our real estate market and impacting your home value significantly. This is something worth your attention if you plan to sell or buy homes in the near future or in the coming years. 

Conservative Party's Four-point Plan to Make Home Ownership More Affordable
Fix the mortgage stress test to ensure that first-time homebuyers aren't unnecessarily prevented from accessing mortgages and work with OSFI to remove the stress test from mortgage renewals to give homeowners more options.

Increase amortization periods on insured mortgages to 30 years for first-time homebuyers to lower monthly payments.

Launch an inquiry into money laundering in the real estate sector and work with our industry partners to root out corrupt practices that inflate housing prices.

Make surplus federal real estate available for development to increase the supply of housing.
Liberal Party's Housing Plan:
1. Introduce a 1 per cent tax on non-resident non-Canadians owning Canadian properties. 
2. Expand the foreign buyer taxes to nation wide instead of just great Toronto and Vancouver area.
3. May proposing taxing on selling your principle residence.

4. Expand 

the First-Time Home Buyer Incentive (FTHBI) program up to home prices at $789,000.
One thing in common is no matter which party gets elected, both of their policies would be in favour to the mid and lower end price range homes, and the higher price range homes would continue to be under depression under the policies. 
There was a misunderstanding that the Conservative Party would scrap the B-20 stress test completely if they are elected in the upcoming federal election, they actually only mentioned to remove the stress test for mortgage renewals, and as a matter of fact the stress test for mortgage renewals is currently already exempted anyways if you stick with the same bank you are currently with.  All in all if the Tories is elected it's more positive for the housing market, if the Liberals is re-elected it's more negative to the housing market, the politics is continuing to impact the real estate market.  But we may not expect much significant changes on the market even the Tories is elected, as the chance to remove the stress test completely is still slim.
Just like Doug Ford talked about he might consider to remove the foreign buyer taxes in Ontario if he was elected, but his Provincial government never mentioned about this again after he was elected since June of 2018. 
Sometimes we just can not take the politicians' words too seriously. 
Not sure about the timing for your home selling or buying? Please call the expert Peter He 647-7392618 for a chat.

*****************************************************************************************
Conservative Leader Andrew Scheer laid out a plan this morning he says would make it cheaper for Canadians to buy homes, loosening rules put in place by the former Conservative government during the global financial crisis.
Scheer pledged he'd return to allowing first-time homebuyers to take out 30-year mortgages to help lower monthly payments.
"For millions of Canadians their home is the largest investment they will ever make," Scheer said.

Beginning in 2008, the Harper Conservatives began reducing the maximum mortgage amortization rate for insured mortgages. They started by knocking it down from 40 to 35 years, and in 2011 reduced it to 30 years.READ MORE: Canada election: 5 economic issues to watch for this campaign
Conservative finance minister Jim Flaherty reduced the maximum amortization period to 25 years the following year. He said at the time that while monthly payments would be higher, it would result in less interest and help people pay off their mortgages faster.
The move at the time was meant to address the growing debt burden on Canadians. A major factor in the panic that locked up financial markets in the late 2000s was mortgages that owners couldn't pay, on properties that were worth less than the loans taken out against them.
READ MORE: Liberal denial of 'hidden' capital gains tax hike can't be trusted, says Scheer
When asked why a new Conservative government would now reverse course, Scheer responded the longer mortgage period would allow more people to buy homes. He added that "it is important that we have strong regulations around the financial sector."
Statistics Canada reported in August that the median mortgage debt of Canadian families that have them almost doubled between 1999 and 2016, rising from $91,900 to $180,000 in 2016 dollars.
Scheer also promised to ease what's known as the stress test on mortgages and remove it altogether from mortgage renewals. The test is meant to make sure people taking out mortgages could still afford the payments if interest rates were to rise.
WATCH: Scheer vows to clear veterans benefits backlog if elected
The Liberals brought in the policy last year and it has been criticized by the construction and real-estate industries. Both the Canadian Home Builders' Association and the Canadian Real Estate Association welcomed Scheer's promises Monday.
A Conservative government would also make surplus federal real estate available for development to increase housing supply, and launch an inquiry into money laundering in the real estate sector, Scheer said.
"Justin Trudeau has put the dream of home ownership further out of reach for so many, especially young Canadians," Scheer said. "As prime minister, I will fix his bad policies and work to get more homes on the market to lower the price of housing."
WATCH: Scheer reaffirms plan to reduce home energy costs 
Scheer is campaigning today in the Toronto-area suburb of Vaughan and then moves on to St. Catharines, Ont.
King-Vaughn, which was a new riding in 2015, was won by Liberal Deb Schulte by just over 1,700 votes last election.
Scheer said he is not concerned with polling that shows the Conservatives and Liberals neck and neck in key ridings despite recent controversies around photos and videos of Justin Trudeau wearing black- and brownface.
"We've got campaigns all across the country where two or three years ago people were writing us off," Scheer said.
"We are going to win those seats.
The politics can be another bazooka for your real estate assets and home selling plan
Back to March 2017, there're rumours the provincial government was going to take actions to cool down the housing market, some sellers were smart enough to take the money and run, and some sellers were boggling to wait hoping to sell for even higher prices but they never did since then. Now we all know the Ontario fair housing plan announced in April 20 2017 was a turning point of our housing market.
Now the upcoming federal election in October may be another big deal to impact our housing market significantly again, the liberals are introducing three major proposals for the more affordable housing as below: 
1. Introduce a 1 per cent tax on non-resident non-Canadians owning Canadian properties. There's a significant number of properties are owned by non-residents, if this is implemented, it could cause some of the non-resident owners to dump their properties into the market, it means more competing listings when you sell your home. 
2. Expand the foreign buyer taxes to nation wide instead of just great Toronto and Vancouver area.
3. Proposing taxing on selling your principle residence.
Further details were not released as yet, there're lots of uncertainties how much of these measures would be eventually implemented, some of them sound just like rumours, but the election results and rumours could make a big difference on the housing market again. 
If you were thinking to sell your home in the next couple of years, these things might be worth for you to keep an eye on and it might be worth for you to reconsider either to sell earlier or later, please call Peter He at 647-7392618 for a chat about how the politics could impact your real estate assets and your home selling plans? 
Will Halton Region Become One City?

Changes may be coming to Halton Region soon…and they may not be something that the communities of Halton have asked for.
During the hectic last minute changes to municipal elections in 2018, the provincial government announced that there will be a review of how regional government across Ontario is working…and now the details of that pending review have finally arrived.
Municipal Affairs Minister Steve Clark announced that former Waterloo Regional Chair Ken Seiling and former Ontario deputy minister Michael Fenn would serve as advisors to conduct a broad examination and provide recommendations to improve governance, decision-making and service delivery in regional governments.
Not all communities are being affected, as the review is only for Durham, Halton, Niagara, Peel, Waterloo and York Regions, as well as Muskoka District, Oxford County and Simcoe County. The review includes examining the cities and towns within those regional governments.

In a phone call with inbrampton.com, Clark said that Simcoe was included because of similar population growth pressures and infrastructure needs they're facing akin with what the other regions were experiencing.
He also said that after 50 years it was time to do a review of regional governments to make sure they're "working efficiently and effectively." A number of those regional governments were modeled along the lines of the former Metro Toronto configuration, back when Toronto was divided into six separate municipalities.
The previous Mike Harris government in the late 1990s amalgamated those six former municipalities and Metro Toronto into the current megacity we know today.
"Our government committed to improving the way regional government works and we will be looking at ways to make better use of taxpayers' dollars and make it easier for residents and businesses to access important municipal services," Clark said.
Fenn and Seiling have been tasked to work with the province to look into easier access to municipal services, making municipalities more "open for business" as well as "cutting red tape and duplication" to save costs.
The two advisors are also tasked with answering some of the following questions:
Does the existing model support the capacity of the municipalities to make decisions efficiently?

Are two-tier structures appropriate for all of these municipalities?

Do the ways that regional councillors/heads of council get elected/appointed to serve on regional council help to align lower- and upper-tier priorities?

Is there opportunity for more efficient allocation of various service responsibilities?

Are there barriers to making effective and responsive infrastructure and service delivery decisions?
The review will include consultations with municipal councilors and leaders, stakeholder organizations, local businesses and the public in the spring of 2019.
You may be wondering, with the terms of reference in this review, if the provincial government is looking into doing another round of municipal amalgamations like the previous Conservatives did twenty or so years ago. Clark also said that he is only focused on finding efficiencies and improving services.
"It's really up to municipalities to put it on the table when it comes to amalgamation. If someone want to talk about that subject, they can put it forward to my advisors."
---
The Ontario NDP released a statement harkening back to the days of Harris when it came to amalgamation, saying the premier was "again meddling with municipalities."
"Ford has already tabled a scheme to Swiss cheese the greenbelt and remove important drinking water protections, and now it looks like he's unilaterally pursuing amalgamation. The last time Doug Ford meddled in municipal governments, we saw the Conservatives abruptly axe more than two dozen local elections, including three regional chair elections," said Jeff Burch, the NDP's Municipal Affairs critic.
"Ford was so intent on settling old scores with his political foes that he even wielded the notwithstanding clause as the Conservatives ran roughshod over these local democratic processes. The NDP is deeply concerned that the Ford Conservatives are planning to use the regional review as a pretext to impose amalgamation on municipalities. The premier's job is to respect the will of democratically elected local governments and work with them, not attempt to override their wishes and control their regions."
---
The cities in Halton Region, unlike neighbouring Peel, are more or less growing at the same rate and as such the services provided should be more on an equal footing. The most sensible change might be to merge Milton and Halton Hills together as one larger town while retaining the existing regional structure.
But of course, we're talking about the Ford government that's got a knack for making shocking decisions. This opinion piece surmises that Burlington will become part of Hamilton, Halton Hills would become part of Wellington County and Milton and Oakville could join Peel (if it still exists).
Or perhaps…Halton Region will just become one big City of Halton?
Who knows if that would happen, but it would be interesting to see people show up to the governance review advocating such a thing.
---
Other thoughts surrounding the other areas being examined by the review:
Brampton and Mississauga could possibly be split off into single tier municipalities, with Caledon joining Dufferin County…or they could be merged together to create 'a City of Peel' or the awful sounding name of 'Bramsauga'.
York Region is currently over one million people, with growing cities such as Markham, Vaughan and Richmond Hill (RH technically calls itself a town, even though it has almost 200,000 residents) as well as smaller towns like Aurora, East Gwillimbury and Georgina. York may be having a similar urban-rural divide the Peel municipalities are experiencing and it won't be surprising to hear some kind of change in York.
Simcoe County is an interesting case because it's most populated city, Barrie, is a separated municipality apart from Simcoe so it's not part of the review. But towns like Innisfil and Bradford are rapidly growing in population alongside smaller communities such as Collingwood, Wasaga Beach and Springwater. One suggestion that might come up is splitting Simcoe's quieter, northern communities from the rapidly growing southern part to allow the latter to better manage that growth.
Whatever happens with this review, people need to get up and be more vigilant as to what their government is planning to do to their communities. This government values its image as being "for the people"; well…those people need to speak up, even if they support whatever the government wants to do in the end.

摘要:安大略省现行省,地区(Region),市(City or Town)三级行政区划已有50年历史了,因为人口的增长新的保守党省政府打算再次为提高政府行政效率对部分地区划分进行重新评估和调整,大多伦多地区主要受影响的区域是Halton, Peel, York. 目前在讨论的方案有多种,方案之一是把Halton区的四个城市Oakville, Milton,Burlington, Halton Hills合并成一个城市City of Halton; 还有的方案是把Burlingon划归哈密尔顿,Halton Hills划到农村的Wellington县,而Oakville, Milton划入Peel区...有多种可能,现在仍然处于争论和评估阶段,最终究竟如何划分仍然是未知数。
如果Oakville被合并成一个Halton市,对其他城市可能正面大于负面,但是对奥克维尔居民影响负面大于正面,因为奥克维尔已经形成一个独特的"加拿大最宜居城市"品牌,合并后这个品牌将被稀释。奥克维尔居民可能多数持反对态度。
 
Bank of Canada raises interest rate to 1.75%
What does 0.25% interest rate hike mean to you? For every 1 million dollar mortgage, you are going to pay $134 more on interests every month...
But don't be freaked out, look at the past 80 years, even with a few more rate hikes the current rates are still at a historically low level...
For those of you who are under fixed rates terms, your mortgage payment won't be affected until renewal. For the variable rate terms, your monthly payment amount would still not change but more payments would be made to interests instead of principle...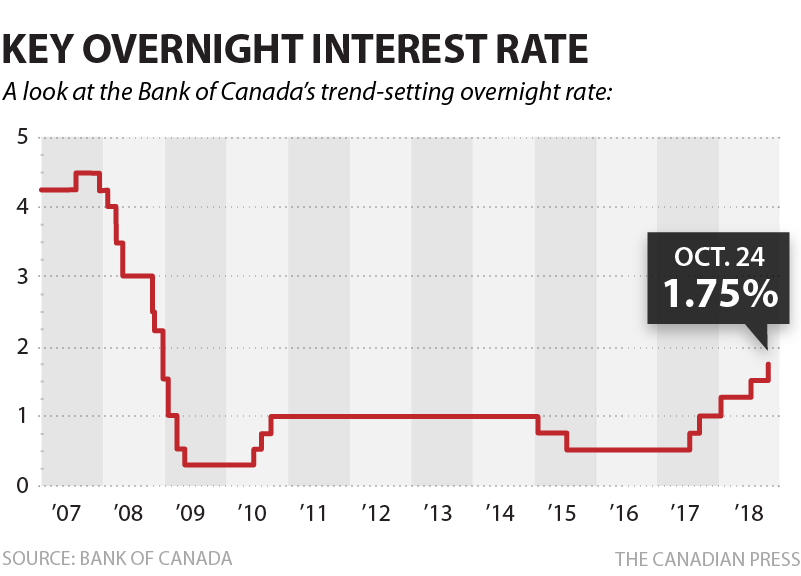 The Bank of Canada has raised its benchmark interest rate by a quarter point for the fifth time since last summer, pushing up the cost of borrowing for Canadians.
The bank's rate is now set at 1.75 per cent.
Known as the target for the overnight rate, the benchmark is what Canada's big banks charge each other for short-term loans. It filters down to consumers, because it affects the rates the banks offer their customers for things like variable rate mortgages and savings accounts.
Canada's central bank kept its interest rate at record lows for several years to stimulate the economy following the economic slowdown of 2008, but has since begun to ratchet it higher as the economy gets back on sounder footing.
Economists are expecting a few more rate hikes to come, but the bank hinted on Wednesday that it wants to see how current rates are affecting the economy before proceeding.
"In determining the appropriate pace of rate increases, [the bank] will continue to take into account how the economy is adjusting to higher interest rates, given the elevated level of household debt," the bank said.
In explaining its decision to raise the rate, the bank noted the recently announced free trade deal with the United States and Mexico as a reason for optimism about Canada's economy.
The bank also said it expects household spending to increase at "a healthy pace."
Candice Bangsund, a portfolio manager at investment firm Fiera Capital interpreted the bank's statement as a clear sign it has very strong confidence in the outlook for the economy — which means rate hikes to come.
"The bank's constructive and upbeat tone in the statement is not all that surprising given that the economy is operating near full capacity and core inflation is hovering around target, while trade tensions have receded substantially following the successful renegotiation of NAFTA," she said.
The bank meets eight times a year to set its interest rate, and its next such meeting is scheduled in six weeks on Dec. 5.
Trading in investments known as overnight index swaps currently implies that investors think there's about a 25 per cent chance of another rate hike on that day. But regardless of what happens then, investors are expecting two more hikes between now and March, bringing the bank's rate to 2.25 per cent.
Currency investors clearly see more rate hikes to come, as the loonie gained half a cent as soon as the decision came out. (Rate hikes push up the value of a currency, because they make it more worthwhile to invest in the country's money.)
The loonie was changing hands at just under 77 cents on Wednesday morning, its highest level in a week.
How will the new cannabis laws affect real estate?
Cannabis is just legalized in Canada, what do you think? Is it a good thing or bad thing? 
How would this cannabis law affect your home value? ...
As per a survey, 57 per cent of homeowner respondents said they think that even growing a legal amount of cannabis at home would reduce their desire to buy that property...
If you are a landlord, now it's time to take extra caution to ask the applicants questions about their cannabis use history, this could be more important than asking if they smoke or have pets...
It may be legal to smoke, grow, and possess marijuana come Oct. 17, but that doesn't mean Canadians looking to purchase real estate are suddenly going to be chill about it.
According to a new report on cannabis and real estate from real estate site Zoocasa, 52 per cent of Canadians say they'd be less likely to consider specific houses for sale if they knew a legal amount of cannabis was grown in it.
Upon legalization, each Canadian household will be allowed to cultivate four marijuana plants.
Baby boomers (54 to 72 years old) and Gen Xers (38-53 years old) were more likely than millennials (22 to 37 years old) to think a legal amount of pot grown in a home would reduce their desire to buy it. Nearly six in 10 of boomers and Gen Xers (59 per cent and 58 per cent, respectively) agreed, compared to just over a third of millennials (38 per cent).
Over half of current homeowners (57 per cent) believe growing a legal amount of cannabis would harm a property's resale value, while 26 per cent disagree and 18 per cent are unsure.
Watch: What's legal and what's not under Canada's new cannabis law. Story continues below.
Zoocasa managing editor Penelope Graham said Bill C-45 has created a lot of uncertainty for homeowners because "there isn't much clarity yet on whether there will be negative implications for home values and marketability."
"Prior to legalization, there were mortgage and insurance consequences for those who smoked or grew cannabis in their homes, and there has yet to be any concrete clarification as to how this will change once the legislation is in place," Graham said in a statement emailed to HuffPost Canada.
"For this reason, the question of whether or not homeowners, buyers, and sellers need protection and education continues to be a hot button topic for real estate associations, agents and appraisers."
The survey also looked at how current homeowners, landlords and tenants feel about smoking cannabis indoors. Nearly two-thirds of homeowners (64 per cent) felt that smoking cannabis inside would harm their home's resale value. Nearly half of renters (46 per cent) also agreed smoking cannabis in a home would devalue it.
Most landlords (70 per cent) say landlords should be able to charge higher rents if tenants want to smoke cannabis inside their homes and just over half of Canadians overall (52 per cent) say the same, though only 13 per cent of renters say they'd be willing to actually pay it.
An overwhelming majority of landlords polled in the survey said that they want or plan to ban smoking within their rental properties.
Mixed feelings about dispensaries
Indoor cannabis consumption and cultivation aside, almost half (48 per cent) of respondents said the presence of a dispensary would reduce their desire to purchase a property, and almost as many (42 per cent) feel having one in the neighbourhood would harm the value of nearby homes.
Less than a third of respondents (31 per cent) said they're comfortable with a dispensary opening in their area, compared to 59 per cent saying the same thing about liquor stores.
Zoocasa conducted an online survey from Sept. 27-Oct. 3 among 1,380 respondents who live in Canada. The results have an estimated margin of error of +/- 2.6 percentage points, 19 times out of 20.